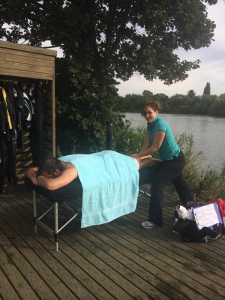 I hold a BTEC Level 5 Diploma from the Oxford School of Sports Massage in Clinical Sport and Remedial Massage, this is currently the highest qualification in this field in the UK, which is the minimum requirement for working as a soft tissue expert with elite athletes. 
I have full membership with both of the leading professional bodies, the Institute of Sports & Remedial Massage (ISRM) and the Sports Massage Association (SMA) and I am fully insured.
I have always had a passion for alternative therapies especially massage. I am fascinated with the body, the way it works, the way it heals and continue to be amazed by the way the body repairs. The process it goes through, including what nutrients you put in your body to assist healing and the way massage assists the laying down of new tissues to ensure that they stay as strong as they were before.
To help with my passion I ensure that I review and study the latest research in massage, physiotherapy, rehabilitation, nutrition and strive to implement evidence based practices into my sessions. These reviews, I have found give me a better foundation to advise my clients in managing their physical and psychological wellbeing, as well as managing pain and muscle tension day to day.
I have shown this by recently receiving a Level 3 Diploma in Indian Head Massage and a CPD in Pregnancy Massage, which I now offer in my Chesham clinic.
I have built up a clientele from Bucks, Herts, Oxon, Middx areas ranging from triathletes, runners, martial artists, exhausted parents and professionals alike; I also work closely with emergency services personnel and feel privileged too work and provide effective treatment to anyone who comes to me with a complaint!